Call centers are the backbone of the customer-business relationship. When run effectively, they are an efficient hub for handling inbound and outbound customer calls and facilitating the buyer journey.
Whether working in support or sales, job candidates must check a list of boxes to succeed. They must be able to assist customers as quickly as possible, all while keeping their cool.
Otherwise, they will blow the sale or fail to solve the customer's problems. Either way represents a loss of customer lifetime value for the company. Call center representatives have to be switched on at all times.
With so much at stake, it's no wonder many call centers experience high employee turnover rates. But if you're cut out for call center work, it can be a fast-paced, rewarding career that allows for remote work.
What is a call center agent?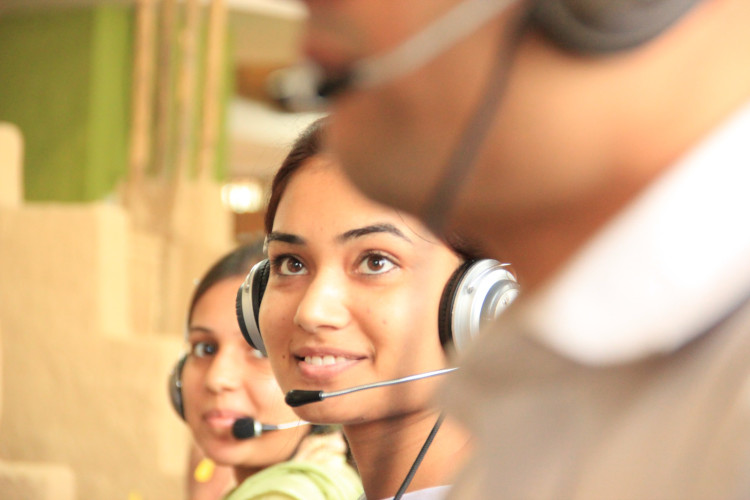 A call center agent (or representative) handles customer-facing communication for one or more businesses. Depending on the position and the nature of the business, channels can include SMS text, email, social media, live chat, and other forms of communication.
However, the name "call center" has stuck around because the most heavily used channel remains a good old-fashioned phone call. Of course, most callers use mobile phones and VoIP (voice over internet protocol) phone solutions instead of a traditional landline.
Call center reps handle inbound calls, outbound calls, or both. Inbound calls are typically from frustrated customers looking for a solution to a problem, whereas outbound calls are usually attempts to sell or upsell a product or service.
Modern call centers will run on a platform like an 8x8 contact center solution for outbound or inbound calls.
The top 8 Skills you need as a call center agent
To be successful as a call center rep, you will need some of the following hard skills to be successful:
Technical ability: this includes using computers, call center software, and other tools.
Relevant user experience: familiarity using the phone, email, text, chat, or whatever channels are necessary for the job.
Written and spoken language skills: be able to speak and write at a conversational level for whatever language(s) required.
While most college graduates will possess hard skills, soft skills will help improve customer communications the most.
Below you'll find eight of the top soft skills call center companies are looking for.
1. Empathy
Anyone who wants to work as a call center agent will need to be able to put themselves in the shoes of the callers. Empathetic reps can genuinely understand where a customer is coming from and better assist them.
Customers will be more willing to share information when they feel understood (and likely be more forgiving). Empathic people use statements like "I completely understand how you feel" and "I'm very sorry for your frustration."
Get used to adding these sentences to your vocabulary, but make sure you mean them when you say them!
2. Attentive listener
While understanding caller sentiment is key, so is listening to every verbal and nonverbal cue. Working as a customer support representative requires strong, active listening skills. Take special note of the word active.
It may seem obvious, but how can you hope to resolve the call if you can't understand what a caller is trying to get across? We're not talking solely about the content being communicated but how it is delivered.
In other words, what is the sentiment of the caller? Are they upset, annoyed, or bored, and why?
We don't always think of listening as taking action. In fact, many of us sit and passively listen while waiting for our turn to speak. Call center agents need to have their ears perked up and focused solely on what the customer is communicating.
Video chat customer service agents must be listening non-verbally. However, cameras or no cameras, agents will find it easier to actively listen by sitting upright, facing their workstation as if chatting with the customer in person.
3. Attention to detail
Paying attention to the finer details is crucial to call center work. First, it indicates a deeper level of listening and understanding. When a caller has an objection or an issue, keywords, and phrases can help guide a rep to call resolution.
For example, if a customer says, "I want to cancel the service because I can't afford it," a salesperson will pick up on the real issue: cost. In another example, a customer might say, "I'm calling again about…" A qualified rep would instantly scan notes from the last time the customer got in touch to expedite a resolution.
Outbound sales call centers can arm their reps with more detailed information by forecasting with Inventory Planner. Tools like these will help team members track stock and know which products are hot items.
4. Organized and able to multitask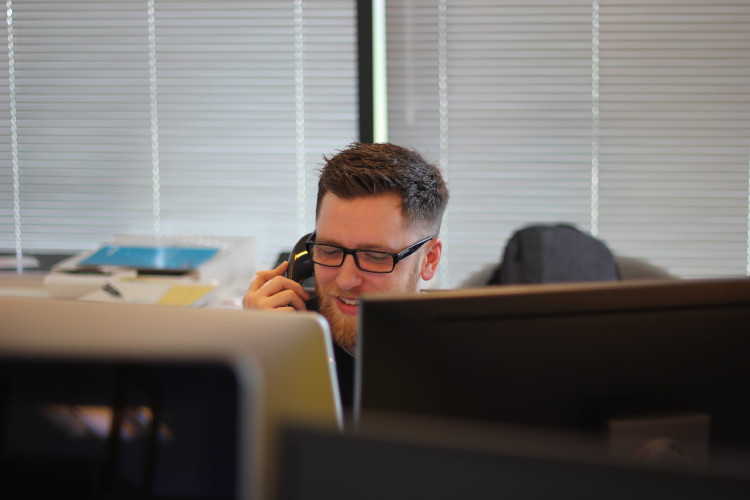 We've just laid out three must-have soft skills for call center agents. You may have noticed a unifying theme, focus on the customer. While you are expected to give 100% of your attention to the customer, you must also be able to squeeze an extra 10% out for multitasking.
While listening and speaking, you will also be perusing old account notes for customer history and entering information. At the same time, you will be reading from scripts and templates, digging up knowledge-base solutions, and taking notes in real-time.
With so much to juggle at once, call center reps need a system to stay organized. This starts with keeping their desk and workspace free from clutter. It also includes how they organize calls and post-call work with their call center software.
You must keep your physical and virtual workspace neat, tidy, and up-to-date. Call centers can boost agent organization and productivity by using features like the 8x8 auto dialer to save reps valuable time.
5. Friendly
The customers of today demand a lot. When they need to get in touch with a business, they want short wait times and a speedy resolution. But that's not all; they also expect anyone representing the company to be friendly.
Call center agents can maintain an energetic and upbeat tone at all times of the day and in any situation. This can be difficult because many customers who contact support will be frustrated and impatient with the agent.
Excellent call center reps are those who can have a customer shout down the phone while keeping a smile on their face as they respond.
6. Quick and flexible problem-solving
Companies will have scripts to guide their representatives for both outbound sales calls and inbound support calls (or vice-versa). There's a reason call templates still exist today; they work well in most situations.
However, call reps deal with customers all day long. Calls will go "off-script." This includes when a caller brings up an issue the agent hasn't been trained on or when a customer response is unanticipated.
This means both support and sales team members must be flexible with problem-solving. They needed to combine solutions from more straightforward issues or just be able to think fast on their feet.
Call centers can use tools like Notion API to allow their agents to build and automate call workflows. This will let them build creative and repeatable solutions to new problems.
7. Able to communicate clearly
We've already emphasized the importance of active listening and attention to detail. But conversations require two participants. Call center agents must be able to communicate clearly when working with customers.
In most cases, this will include both written and spoken forms of communication. Excellent reps can explain technical issues in layperson's terms, establish empathy, and give easy-to-follow instructions.
When it comes to live chat and other text messaging, agents need to keep communication clear, concise, and avoid distracting typos and grammatical errors. These writing skills will also help when it comes to taking call notes that are easy for future reps to understand.
It's not just for these benefits. If you don't have good communication skills, you will also have trouble acing job interviews.
8. Grace under pressure
Working as a call center agent can be a mostly thankless job. You may not be saving lives, but you are helping people fix problems and building customer lifetime value for businesses. Many people will walk away satisfied, but some will leave with a bad taste in their mouths—it's difficult to win them all!

Additionally, many people will get in touch with a business out of frustration, desperation, and as a last resort. These customers feel they have been let down by call center agents previously.

They will have little patience and be swift to anger and insults. They may even get personal at times. Call center reps need to have thick skin and perform with grace under pressure, like NBA referees. Despite the noise of the crowd, they need to get the call right.

While many thrive in fight-or-flight situations, it's not cut out for everyone. Dealing with demanding customers can be taxing on your mental health and cause early career burnout.

Those who are emotionally centered and well-prepared will excel under pressure.

So you want to be a call center agent?

We've gone over eight vital skills that every call center needs. If that sounds like you, then you are ready to jump in and start learning. Remember, it's a process. You won't get it right all of the time, but you will be trained in the best methods and techniques.

Once you start the job, don't be afraid to ask for help. Your managers, team leaders, and supervisors are all there to support and mentor your career. Everyone is working towards the same goal. Push through the initial uphill battle and reap the rewards of a fast-paced career!